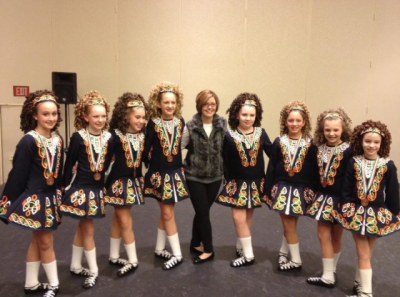 Beth McCarthy, T.C.R.G. founded The McCarthy School of Irish Dance in 1990 as a way to share her knowledge of Irish culture through dance. At that time the school had only 2 students. Today the McCarthy School "family" consists of over 65 members! The dancers are both boys and girls and range in age from 4 to 18 years. The students have earned several medals and trophies under Beth's tutelage in competitions called feisanna (pronounced fesh-a-nah) that are held across the country and in Canada, including the regional competition called the Oireachtas (pronounced o-rock-tas). The dancers' talents extend far beyond Irish dance. They are accomplished scholars, musicians and athletes as well.
When the dancers are not competing, they enjoy performing in shows and celebrations such as wedding receptions, birthdays, retirement parties and other events. Granted, St. Patrick's "season" is the busiest time for them but you can see the dancers in various places around Erie and Niagara county festivals and events throughout the year. In the past they have been seen dancing with the Hibernians at their yearly party, the Seneca Niagara Casino, Niagara Falls International Festival and in the Independence Day Parade on Grand Island.
Following in the Irish tradition of dance masters traveling from town to town to teach the art of Irish Dance, Beth began instructing in basements of churches and garages in Niagara Falls and Tonawanda. From those humble beginnings, Beth has grown into the 21st Century and has settled into her own state-of-the-art dance studio located next to Wendy's/Tim Horton's at 1709 Grand Island Blvd.
If you would like more information about joining the school or would like to have the dancers perform at your next celebration, please contact us.